Database¶
Overview¶
iolite's Database tool will create an SQLite database from your existing iolite session (.io4) files. It does this by reading through your session files and extracting the results for each selection. For example, if you were to import a typical session, there would be a result for each input, intermediate and output channel for every selection (including baseline selections).
The advantage of a database is that you can import all your sessions to determine parameters such as inter-session reproducibility, long-term trends in your data, and many other things that might not be apparent when you look at sessions individually. You can also collate multiple sessions to be able to view all results in one place, e.g. all sessions for an overarching project. We have also built in tools to sort, filter and even plot your database results. For even more flexibility and power, you can interact with the database via iolite's python interface so that you can run python scripts to create plots, calculate new results, and store or retrieve data from other data repositories.
The database file created is a standard SQLite database (.db) file. This means that your database can be opened with other third-party programs (e.g. the free and open-source DB Browser for SQLite).
Tip
You can also import iolite v3 .pxp files, as well as Excel spreadsheets. Just remember that if you're storing date/times in your Excel spreadsheet, it should be in the following format: "yyyy-MM-dd hh:mm:ss.zzz". If you're worried about how a file might import, you can create a blank database and import your file to see how it goes.
Associating external results¶
As noted above, your database will contain a row for each selection and a column for each result/channel in your experiment. However, it is likely you'll also want to link external data with your results. For example, you may want to associate external data such as IGSN, batch labels, sample type, etc with a particular result. You can do this by adding 'properties' to selections. Selections already have a variety of default properties, such as start and end time, duration, spot size etc (see Fig. 17). However, you can add additional properties to selections to link the results associated with that selection with other information. You can, for example, add the IGSN for the sample by adding a property to the selection, renaming the property to 'IGSN', and setting the value to your IGSN.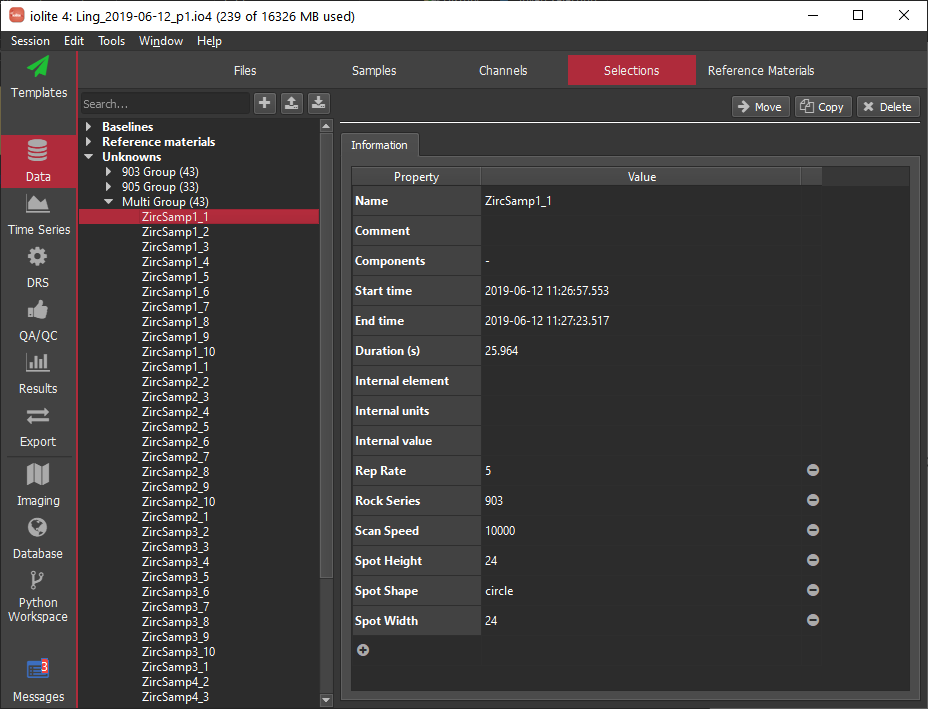 Of course, manually adding a property to hundreds of selections would be time consuming and inefficient, so we've come up with some ways to add properties to multiple selections more efficiently. The first method is to add a property to all selections within a group. This can be quite powerful if your selections are already grouped according to some shared property (e.g. sample group, mount, etc). You can add a property to every selection within a group by clicking on the group's name in the Selection Browser. This will show you the group's properties, such as the group's name and the number of selections within the group. If you add a new property here, it will add that property to all selections with the group. If you set the value here, all selections within the group will have that value.
While this is a quick and easy way to apply a single value to all selections within a group, you may want to apply various values to each selection. You can do this via a couple of simple python scripts. The first will export all the selection names to an Excel spreadsheet. You can then add columns to this spreadsheet and import the spreadsheet using a second python script. This second script will add a property for each column in the spreadsheet. For example, if you have a column called 'Batch No', all selections that are listed in the spreadsheet will be given a new property called 'Batch No'. The script looks through every selection within the group to match up it's name with an entry in the spreadsheet.
Below is a guided example on how to do create a database from a single session file, including how to add properties to individual selections manually and using the python scripts described above. Finally, we'll create a quick plot of our results, and export a subset of results to an Excel spreadsheet.
Quick Example¶
For this example, we'll be using an example U-Pb dataset. Please note that you can create and interact with your database with any type of experiment, not just U-Pb data.
Here is a link to the U-Pb example dataset: click here.
There are two files in the example dataset: a U-Pb session file (U_Pb_Example_DB.io4) and a spreadsheet of dummy IGSN, field trip codes, and publication codes (sel_labels_example_filled.xlsx).
In the example below we'll create properties for our selections in two ways: manually; and, using the python API. Remember that the properties will become columns in our database that we can then use to filter and/or sort our data by.